Do You Know What You're Up Against?
Introducing ROBO Advisors
ROBO Advisors are websites that generate automated financial advice online. These "Do-It-Yourself" sites are popping up all over the web. ROBO Advisors threaten to disrupt the way financial planning and advice are provided to your clients.
This new video makes a vivid case that qualified financial advisors know their clients' needs and goals far better than any computer program. Professional financial advisors use technology to enhance their expertise, not to replace it. The result is personalized financial advice that puts the advisor – client relationship at the center of the equation.
---
15 Things Human Advisors Do That ROBO Advisors Can't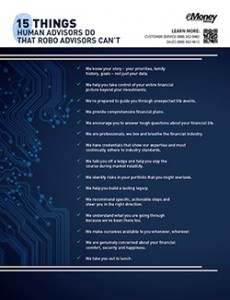 ---
Only Available from eMoney Advisor
For more information Email Us or visit emoneyadvisor.com.